The Venom Birth By Sergio Mengual.
thumb_up
1
remove_red_eye
336
question_answer
0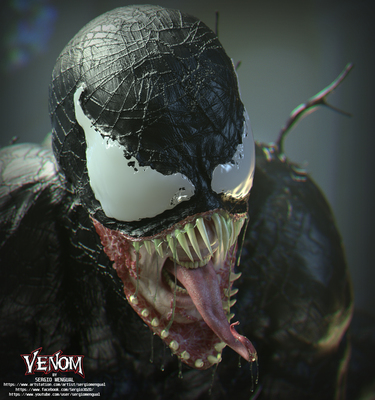 "Never wound, what you can't kill"
Somebody in my Youtube channel said: "Sergio, make a Venom".
Well, I was very tigh with the work, but finally is done.
This time I used an diferent workflow. I started the head from zero with Dynamic tessellation and spheres. And the body was made appart, in a diferent scene file, and starting with a very simple human like basemesh, for next set it in pose, and next, use the DT for detail the body.
And this time I used Autodesk Meshmixer for next merge the head and the body together,and back to Mudbox with the resulting mesh for continue working it with DT. The Retopology and textures were made in Mudbox 2018.2 The UV Mapping and some other details like the plate were made in 3DS MAX 2017.
The final beauty renders after retopologize all were made in Redshift 2.5 for 3DS MAX 2017.
Hope you like it.
Category : Fantasy , Comic Art , Creatures , Characters
Software Used : 3ds Max , Mudbox
Tag : Collectible Statue , Spiderman , Simbiat , 3D Sculpt , Marvel Comics , Venom , redshift , 3DSMAX 2017 , Dynamic Tessellation , Mudbox 2018.2 , Autodesk