Solid Spark "Blackout" Call Of Duty Music Video
thumb_up
0
remove_red_eye
4
question_answer
0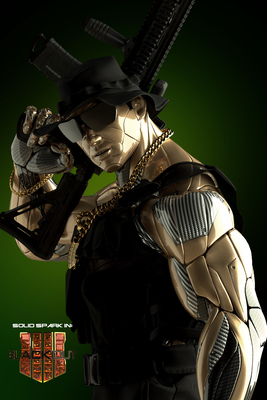 Solid Spark is an American Animated Actor/Rapper. Blackout is his first fan art video based on the hit video game Call of Duty Black Ops 4 "Blackout".
Solid Spark is a character I created as an anatomy reference. While playing call of duty black ops 4 BLACKOUT I was inspired by streamers to create a music video for them based on how awesome they were at the game. I decided to use this character as my rapper and built a world around him. I put it together rather quickly since the game is no longer relevant and I wanted to get it done as fast as possible. It took roughly about a year to do all of this. I hope that gamers and streams like it. I'll also use this as an attempt at becoming a social media entertainer/influencer.
This video was inspired by streamers who kick ass at Blackout. Because every good player needs theme music!
Characters, weapons, sound effects, and locations, while similar are different for copyright reasons. I don't want to infringe on Activision's IP.
For more content like this please visit:
https://www.instagram.com/rappinspark
http://www.patreon.com/rappingspark
Solid Spark is copyright 2020 Zancois Rice All rights reserved
Nas "Ochie Wally" Instrumental remake produced by Kin Rich
SHOW LESS